After 5 years of red walls, which I dearly loved until recently, I have gone to the other extreme.
What does it mean? That my twenties are long gone? That I've mellowed out? Or, simply, that brown and blue is "in" and toile is "out"?
I'm going to go with this: the red walls were fun to come home to when I worked outside the home. But now that I stay home all day with a toddler, I have about all the excitement I can handle. Time to tone down the walls.
Before: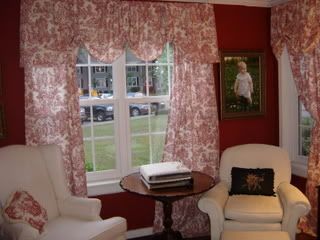 After: